Fox And Goose Riddle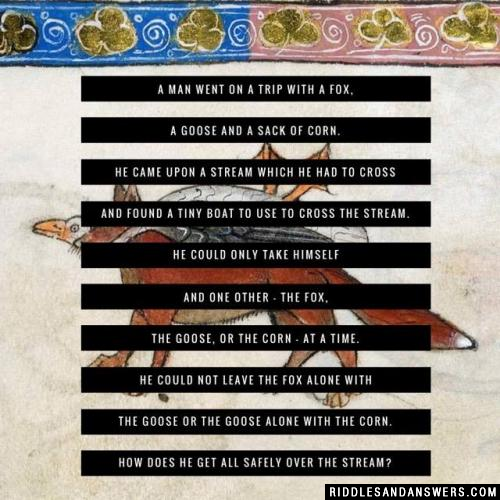 A man went on a trip with a fox, a goose and a sack of corn. He came upon a stream which he had to cross and found a tiny boat to use to cross the stream. He could only take himself and one other - the fox, the goose, or the corn - at a time. He could not leave the fox alone with the goose or the goose alone with the corn.


How does he get all safely over the stream?
Hint:
Take the goose over first and come back. Then take the fox over and bring the goose back. Now take the corn over and come back alone to get the goose. Take the goose over and the job is done!
Did you answer this riddle correctly?
YES
NO
Add Your Riddle Here
Have some tricky riddles of your own? Leave them below for our users to try and solve.