Murdered On A Sunday Afternoon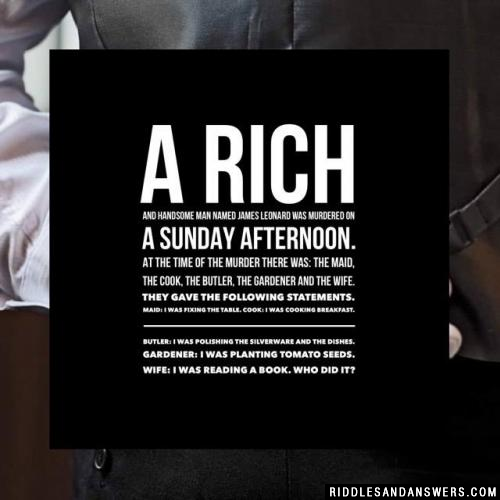 A rich and handsome man named James Leonard was murdered on a Sunday afternoon. At the time of the murder there was: the maid, the cook, the butler, the gardener and the wife. They gave the following statements.

Maid: I was fixing the table.

Cook: I was cooking breakfast.

Butler: I was polishing the silverware and the dishes.

Gardener: I was planting tomato seeds.

Wife: I was reading a book.

Who did it?
Hint:
The cook did it. You don't cook breakfast in the afternoon.
Did you answer this riddle correctly?
YES
NO
Add Your Riddle Here
Have some tricky riddles of your own? Leave them below for our users to try and solve.