Sam And Angela's Camping Trip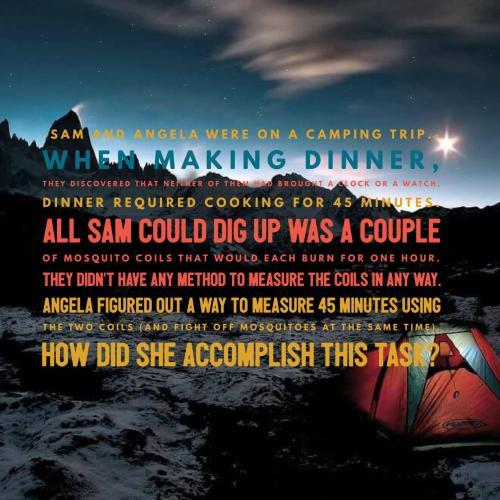 Sam and Angela were on a camping trip. When making dinner, they discovered that neither of them had brought a clock or a watch. Dinner required cooking for 45 minutes. All Sam could dig up was a couple of mosquito coils that would each burn for one hour. They didn't have any method to measure the coils in any way. Angela figured out a way to measure 45 minutes using the two coils (and fight off mosquitoes at the same time). How did she accomplish this task?
Hint:
Angela first lit one mosquito coil at both ends and then lit the other on only one side. The coil which had been lit on both ends finished burning in one-half hour. At that point the second mosquito coil had one-half hour left to burn. Angela lit the second coil at the other end, and it finished burning fifteen minutes later. (45 minutes total)
Did you answer this riddle correctly?
YES
NO
Add Your Riddle Here
Have some tricky riddles of your own? Leave them below for our users to try and solve.