What Comes Immediately Before Today Riddle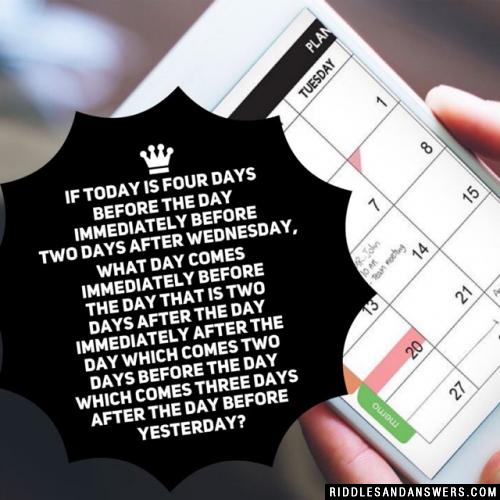 If today is four days before the day immediately before two days after Wednesday, WHAT DAY comes immediately before the day that is two days after the day immediately after the day which comes two days before the day which comes three days after the day before yesterday?
Hint: Determine what "Today" is, then work backwards until you determine the day in question.
MONDAY. "Today" is Sunday. Now, starting at Sunday and working backwards (from "the day before yesterday"), we have the following: - 2 + 3 -2 + 1 + 2 - 1 ...So, we go from Sunday to Fri. to Mon. to Sat. to Sun. to Tues. to MONDAY.
Did you answer this riddle correctly?
YES
NO
Add Your Riddle Here
Have some tricky riddles of your own? Leave them below for our users to try and solve.