Trending Tags
Popular Searches
Feel free to use content on this page for your website or blog, we only ask that you reference content back to us. Use the following code to link this page:
Terms
·
Privacy
·
Contact
Riddles and Answers © 2018
Rope Burn Riddle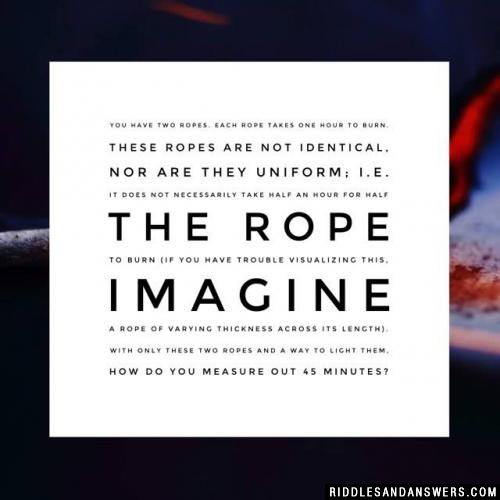 You have two ropes. Each rope takes one hour to burn. These ropes are not identical, nor are they uniform; i.e. it does not necessarily take half an hour for half the rope to burn (if you have trouble visualizing this, imagine a rope of varying thickness across its length). With only these two ropes and a way to light them, how do you measure out 45 minutes?
Hint: You can light multiple ends and/or multiple ropes at the exact same time.
Light both ends of one rope, and only one end of the other rope. This will cause the first rope to burn out in 30 minutes. When the first rope burns out, there will be 30 minutes left on the second rope. So then, light the other end of the second rope, and the rest of it will burn out in 15 minutes. 30 + 15 = 45 minutes.
Did you answer this riddle correctly?
YES
NO
Add Your Riddle Here
Have some tricky riddles of your own? Leave them below for our users to try and solve.