A Game Of Dodge Ball Riddle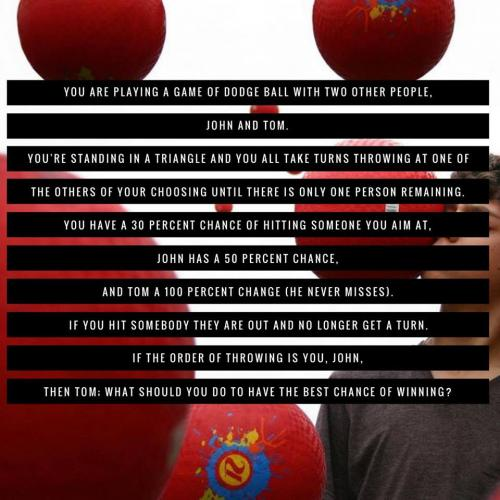 You are playing a game of dodge ball with two other people, John and Tom. You're standing in a triangle and you all take turns throwing at one of the others of your choosing until there is only one person remaining. You have a 30 percent chance of hitting someone you aim at, John has a 50 percent chance, and Tom a 100 percent change (he never misses). If you hit somebody they are out and no longer get a turn.

If the order of throwing is you, John, then Tom; what should you do to have the best chance of winning?
Hint:
Miss the first time on purpose.
If you try to hit John and do. Then Tom goes next and he will hit you and you will lose for sure. If you aim at Tom and hit him then John will go for you. If you miss on your first turn John will go for Tom for sure because he is a stronger player. If he hits him then it's just you and John, but you are going first. If he misses him then Tom will hit John and it will be just you and Tom, but again in this case you are going first.
Did you answer this riddle correctly?
YES
NO
Add Your Riddle Here
Have some tricky riddles of your own? Leave them below for our users to try and solve.