Swinging At The Park Riddle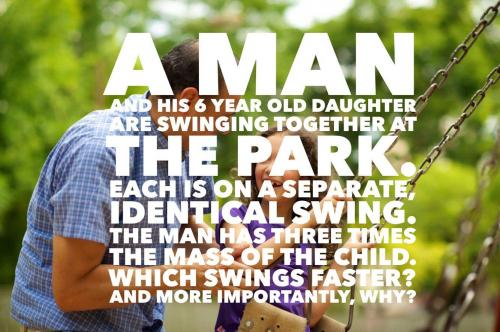 A man and his 6 year old daughter are swinging together at the park. Each is on a separate, identical swing. The man has three times the mass of the child.

Which swings faster? And more importantly, why?
Hint:
The speed at which a pendulum swings is called the period and given by the equation:
2 x pi x square root of (length of rope from fulcrum to Center of Mass divided by gravity)
Since gravity is constant, the only thing that effects the period is the length of rope. In the above scenario, you assume the man is taller then the child. Therefore his center of mass is higher. This makes the distance between the fulcrum to the center of mass shorter then for the child. The man swings faster.
Did you answer this riddle correctly?
YES
NO
Add Your Riddle Here
Have some tricky riddles of your own? Leave them below for our users to try and solve.