Fox Rabbit Cabbage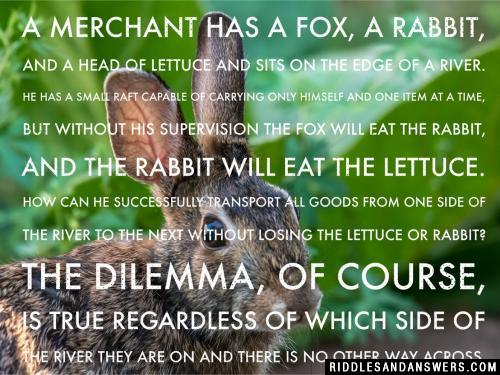 A merchant has a fox, a rabbit, and a head of lettuce and sits on the edge of a river. He has a small raft capable of carrying only himself and one item at a time, but without his supervision the fox will eat the rabbit, and the rabbit will eat the lettuce. How can he successfully transport all goods from one side of the river to the next without losing the lettuce or rabbit? The dilemma, of course, is true regardless of which side of the river they are on and there is no other way across.
Hint:
First the farmer takes the rabbit across and returns to the fox & cabbage. Next, the farmer takes the cabbage, but when he arrives to the other side with the rabbit, he leaves the cabbage and takes the rabbit back on the raft with him to return and get the fox. He exchanges the rabbit for the fox and returns to drop the fox off with the cabbage, and finally goes back to get the rabbit.
Did you answer this riddle correctly?
YES
NO
Add Your Riddle Here
Have some tricky riddles of your own? Leave them below for our users to try and solve.