Three People At A Bus Stop Riddle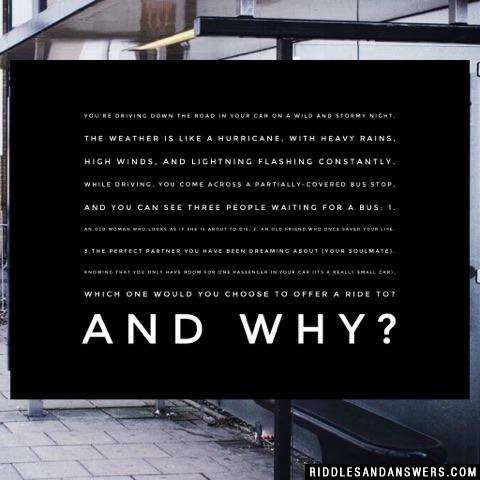 You're driving down the road in your car on a wild and stormy night. The weather is like a hurricane, with heavy rains, high winds, and lightning flashing constantly. While driving, you come across a partially-covered bus stop, and you can see three people waiting for a bus:

1. An old woman who looks as if she is about to die.

2. An old friend who once saved your life.

3.The perfect partner you have been dreaming about (your soulmate).

Knowing that you only have room for one passenger in your car (its a really small car), which one would you choose to offer a ride to? And why?
Hint:
I would give the car keys to my old friend, and let him take the old woman to the hospital. Then I would stay behind and wait for the bus with the partner of my dreams.
Did you answer this riddle correctly?
YES
NO
Add Your Riddle Here
Have some tricky riddles of your own? Leave them below for our users to try and solve.