A Blind Man Has 2 Red Pills And 2 Blue Pills Riddle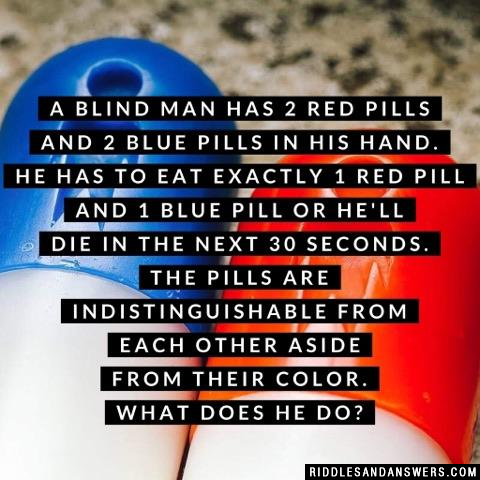 A Blind Man has 2 red pills and 2 blue pills in his hand. He has to eat exactly 1 red pill and 1 blue pill or he'll die in the next 30 seconds. The pills are indistinguishable from each other aside from their color. What does he do?
Hint:
Break each of the pills in half, as you do this pop one half in your mouth and lay the other half aside for tomorrow. When he's done this with all four pills he will have consumed one red pill and one blue pill. And have the same left over.
Did you answer this riddle correctly?
YES
NO
Add Your Riddle Here
Have some tricky riddles of your own? Leave them below for our users to try and solve.