The Dinner Guests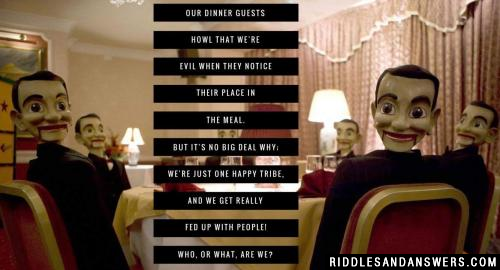 Our dinner guests howl that we're evil
When they notice their place in the meal.
But it's no big deal why;
We're just one happy tribe,
And we get really fed up with people!

Who, or what, are we?
Hint: Anyone for dinner? Anyone!
Cannibals
The opening lines refer to a guest's role in dinner - as the main course!
"Tribe" and the pun, "fed up", are the main clues.
Did you answer this riddle correctly?
YES
NO
Add Your Riddle Here
Have some tricky riddles of your own? Leave them below for our users to try and solve.